Welcome to our web page, please have a look at each of the sections to better appreciate who we are and what we do.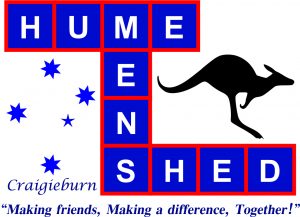 You are also welcomed to visit our facility on days that we are open.
We gladly accept and appreciate any support of financial or physical nature that fosters our aims and activities.
Opening times for 2019 / 2020
Shed closes for Summer break on Thursday 19 December 2019.
Shed re-opens Tuesday 14 January 2020.
Closed on Melbourne Cup Day.
Monday's       9:00 am  to 2:00pm Scheduled Training class.
Tuesday's       9:00 am  to 2:00 pm General (Social & Workshop)
Wednesday's 10:00 am to 12:00 noon Scheduled Training class.
Thursday's     9:00 am  to 2:00 pm General (Social & Workshop)
WE ARE REGISTERED MEMBER OF:-